Decoration ideas for a bohemian-inspired terrace or patio
---
Why not try a bohemian-inspired decorative look outdoors? This style is now widespread and totally on-trend and offers a wide range of nuances: chic or casual, ethnic or exotic, pure or colourful, you are bound to find something to suit you. Inspired by the nomadic world, travelling and interesting encounters, the bohemian trend will add warmth and originality to your decoration (indoors or outside).  To adopt the trend on your terrace or patio, the black fox is revealing some suggestions for a successful bohemian scheme. Over to you!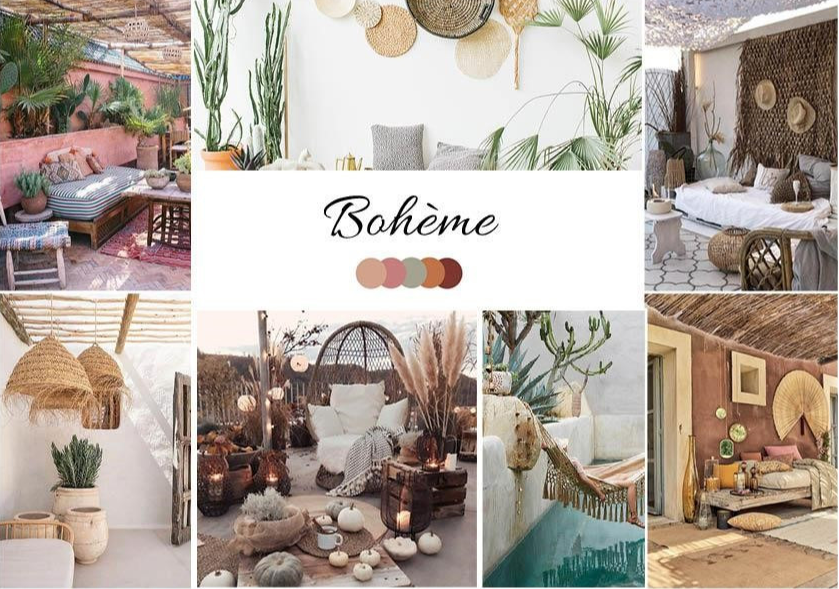 Let's start by talking about the materials needed to create a bohemian-inspired outdoor space. Rich, soft and natural materials. Rattan is undoubtedly the central element of the bohemian style. Wicker is also a material often found in this type of decoration. And we also find bamboo, seagrass, driftwood and straw (especially for the roof). The bohemian style calls for other natural-looking materials, including terracotta, ceramics, lime plaster and even polished concrete
The colours and patterns to adopt
The bohemian look is colourful and rich in patterns. Choose warm, exotic colours like terracotta, brown, beige or ochre. You can add touches of green and or yellow to make elements stand out. Black and white in ethnic motifs works very well, especially on textiles. 
Choose the right textile elements
Curtains, rugs, throws and cushions are all decorative elements to include if you want to perfect a decorative scheme with a bohemian vibe. Add in one or more Berber-type rugs, and don't hesitate to layer the patterns. For a more refined, bohemian-chic look, seagrass, as a rug or over the entire floor, works wonderfully well. Add woven throws and textured cushions for a thoroughly exotic touch.
Simple, uncluttered furniture
To contrast with the exuberance of the colours and patterns, choose simple furniture made of natural materials. A rattan coffee table and armchair, a woven hammock and a driftwood stool are all elements that will fit perfectly on your terrace or patio.
Decorative objects and lights to add
A bohemian scheme is not complete without some iconic decorative details. A dream catcher and a macramé mirror or headboard are essential to the bohemian style. Terracotta vases and wicker baskets can complete the decoration. In terms of lighting, consider straw pendant lights, hanging lanterns, candles and garlands of tiny lights. Aim for a subdued and warmly lit atmosphere.  
Blackfox has identified different kinds of plants that you need to create a bohemian look. If you opt for a more ethnic and exotic variant, potted succulents such as cactus, aloe vera, or monstera deliciosa will enhance your terrace. On the other hand, bamboo and palm trees are more imposing elements for furnishing your outdoor space. For a more refined, bohemian-chic style, grasses (angel hair, pennisetum, pampas grass or hare's tail) and dried flowers go very well and bring softness to your scheme.
The black fox hopes you enjoyed these decorating tips. You now have all the ingredients you need to create a wonderful terrace with chic bohemian or ethnic inspiration.